A Better Solution for Household Water Purification
Waterdrop G3P800
Faucet type
Smart display faucet
Filter replacement time
3s
Other tankless RO systems
Faucet type
Ordinary faucet
Filter replacement time
3s
Traditional RO systems
UV sterilization
Extra purchase required
Faucet type
Ordinary faucet
Filter replacement time
Over 2 hours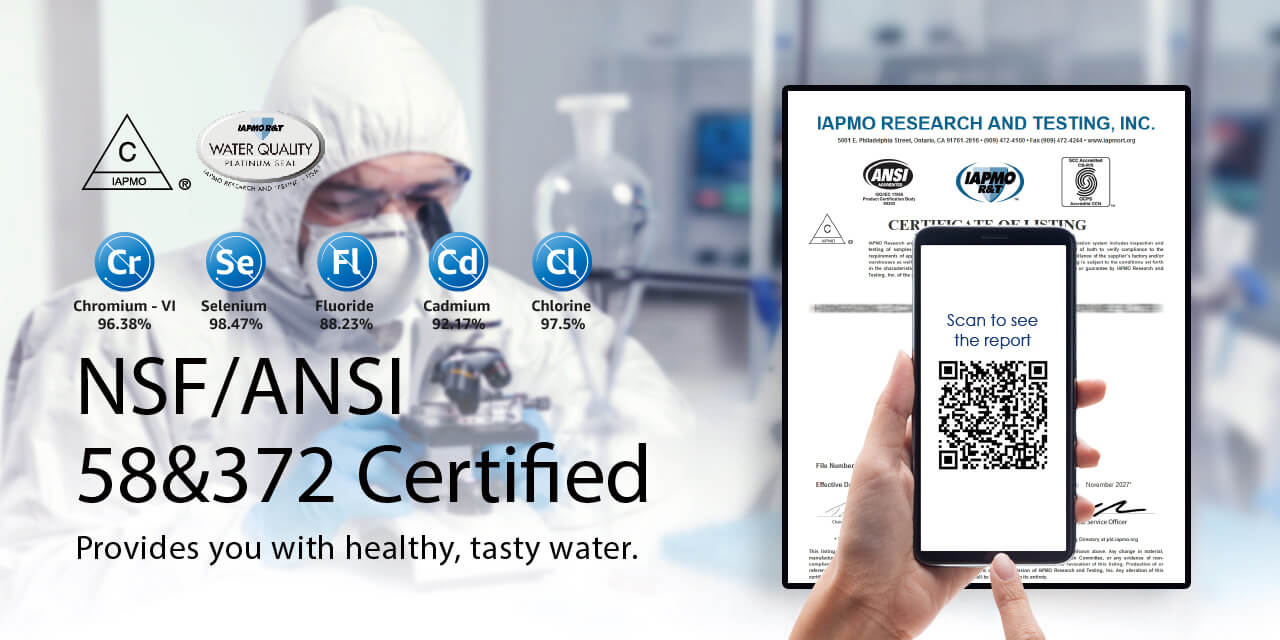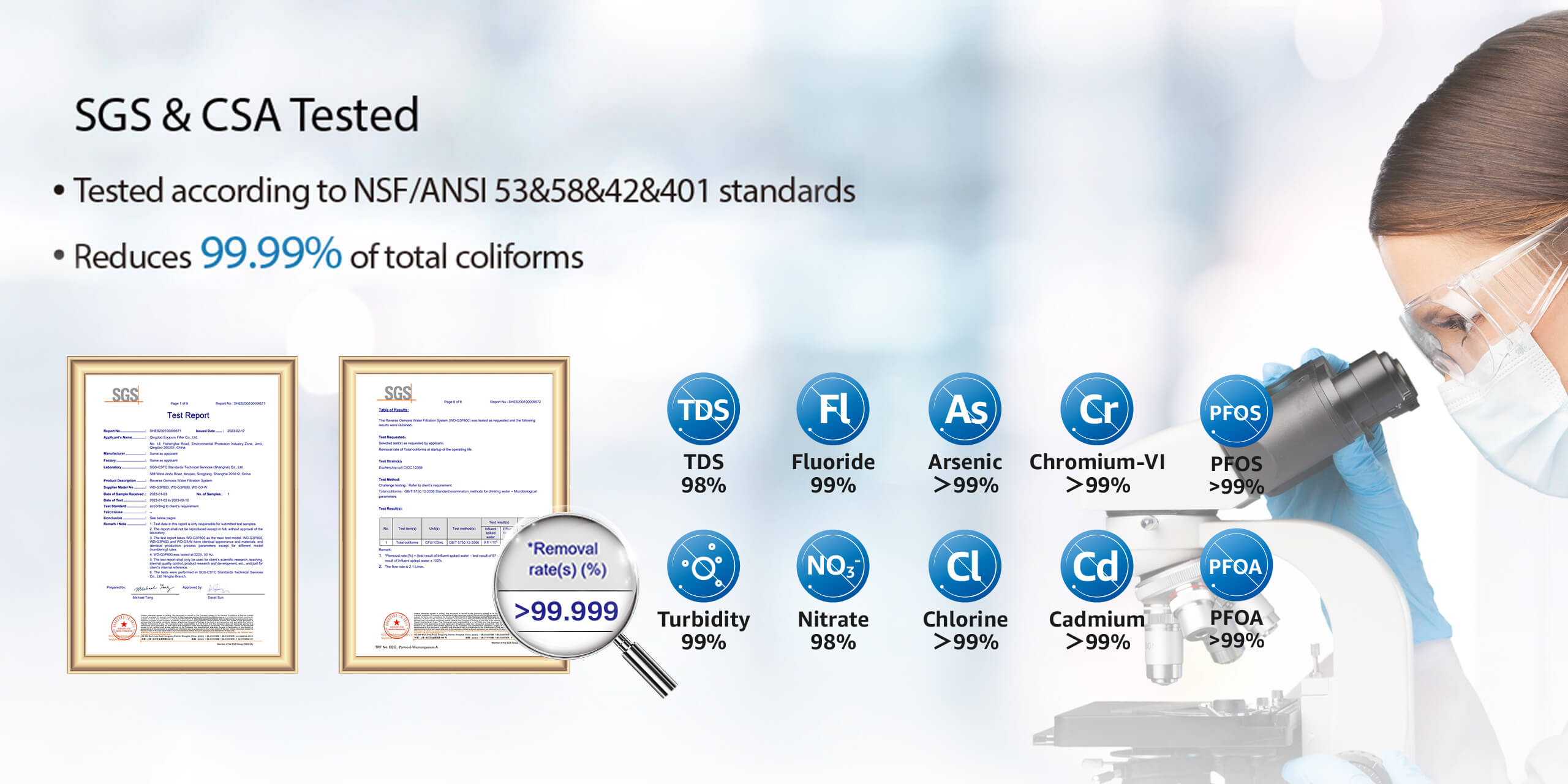 More Pure
Pure like never before
More Efficient
Easily meets multiple water demands by its high flow rate
More Economical
Save water bills, more sustainable.
More Convenient
Getting clean household water is not complicated any more.
Smart Display Faucet
Check the TDS Before Drinking
Dynamic Filter Life Reminder
Easy for Installation and Filter Replacement
Hear it Straight From Our Pros and Users
Media Attention
Waterdrop RO System is one of the most popular options for homeowners who are interested in saving space and conserving water.
Customer Review

We love our new RO system. It's already saved us $$ since we are no longer buying bottled water, and I am so glad to reduce our use of single-use plastics as well. The water tastes great and the system works like a dream

VANESSA

Been through many different systems from Lowes (AO Smith) and Home Depot. Waterdrop filters are my favorite in design. It obviously works like it's supposed to. But the ease of changing filters is awesome. It's a breeze now. Love the design.

Kenny Roberts

Great system. Was buying bottled water before but even some bottled water tasted off. I don't have that issue with the waterdrop RO. Water tastes great.

Shellene TURNIPSEED

After many years of unsuccessfully trying water pitchers and refrigerator filters the Waterdrop 800 with UV sterilizer has finally cut off my dependence on bottled water.

Joseph

Excellent product and service! With Safety and Quality as their standard, Waterdrop knocks it out of the ballpark for pure, unadulterated water!! Many thanks!!

Gail Warren
In the box
System housing
Activated carbon filter

(CB:WD-G3-N3CB)

Pre-sediment and carbon block filter

(CF:WD-G3-N1CF)

Reverse osmosis membrane filter

(RO:WD-G3P800-N2RO)

RO faucet
UV sterilizer
Feed water adapter3/8"-1/2"
White 3/8" PE tubing × 60"
Lock clip
Teflon tape
Drain saddle 1/4"
White 1/4" PE tubing × 60",
Red 1/4" PE tubing × 60"
Power adapter
Specs
Size (L*W*H)
18.06"*5.65"*17.75"
Feed water temperature
41-100℉/ 5-38℃
Feed water pressure
14.5-87 psi/ 0.1-0.6 MPa
Feed water requirement
Municipal tap water
Max daily production rate
800 GPD
Faucet appearance
Brushed nickel
In the box
System housing
X 1 Set
Activated carbon filter
(CB:WD-G3-N3CB)
X 1
Pre-sediment and
carbon block filter
(CF:WD-G3-N1CF)
X 1
Reverse osmosis
Membrane filter
(RO:WD-G3P800-N2RO)
X 1
RO faucet
X 1 set
UV Sterilizer
X 1 set
Feed water adapter
3/8"-1/2"
X 1 set
white 3/8" PE tubing
X 60"
lock clip
X 5
teflon tape
X 1
drain saddle 1/4"
X 1 set
white 1/4" PE Tubing
X 60"
Red 1/4" PE Tubing
X 60"
Power Adapter
X 1 Set
FAQ
Product
What kind of harmful substances does the Waterdrop G3P800 water filter remove?
The RO system comes with an efficient 3-filter setup, alongside seven layers of RO membrane. Therefore, it is effective against all impurities larger than 0.001 microns, such as heavy metals, harmful chemicals, viruses, bacteria, and more.
Is UV sterilize necessary for reverse osmosis system?
Yes, it is. Reverse osmosis system is designed to remove over 90% of contaminants from your tap water by forcing the water particles through tiny pores in the reverse osmosis membrane. However, bacteria that isn't intercepted by RO membrane will still grow in internal waterway and even faucet. UV sterilizer can perfectly solve this problem because it can filter out up to 99.9% bacteria in water. So, it is best to combine UV disinfection with water filtration for the purest drinking water.
Do I need to replace the UV lamp regularly?
No, it is not. You can use the lamp for up to 50 years or more. It uses an advanced LED chip with little or no maintenance requirements – a huge upgrade from the traditional mercury sterilizer.
Dose Waterdrop G3P800 RO system waste a lot of water?
No, it does not. The reverse osmosis water system is equipped with cutting-edge water-saving technology that guarantees a minimum drain ratio of 3:1. Therefore, for every three cups of pure water you get, only 1 cup of wastewater is produced. This is the highest water-saving capability you will find in reverse osmosis water filters.
Can Waterdrop G3P800 RO system be used for commercial?
Yes, you can. The 800 GDP filtration capacity of the filter in this reverse osmosis with uv light means it can conveniently meet the water needs for large households and small businesses like clinics, restaurants, gyms, cafes, and others.
Is the Waterdrop G3P800 reverse osmosis pump noisy?
Yes, it does. The pump in this reverse osmosis water filter works silently; you will hardly hear any noise.
Do I need plumbing services to install the reverse osmosis system?
No, you don't. The installation process is quite straightforward.
Is this reverse osmosis water filter system unit suitable for well water?
No, you cannot. The complicated position of well water makes it unsuitable for this system. We recommend having a basic water filter to remove the large particles in your well water before sending it to this RO system.
Can I use our own faucet?
No, you cannot. Your original kitchen faucet may not be compatible with the system. Therefore, we have included a dedicated faucet in this reverse osmosis water system.