Waterdrop G3 vs. iSpring RCC7: Which is the better Water Filtration System?
by Dr. Jonathan Doyle |
A key benefit of getting a water filtration system for your home is that you can worry less about buying bottled water. These filtration systems are designed to provide purified tap water, eliminating up to 99% foreign substances and contaminants. Purified tap water is free of lead, nitrates, calcium, salt, atrazine, TDS, bacteria, and other microorganisms. Hence, it is 100% safe for consumption.
So, how do you find the perfect reverse osmosis filtration system model? This can be tricky, considering how significant the investment in a reverse osmosis system is. Apart from getting the right model, you should also ensure the regular replacement of filters. Their extended lifespan and ease of installation are some of the reasons Waterdrop systems command very high sales on retail outlets like Amazon.
Having highlighted the capability of reverse osmosis systems to offer crystal clear tasty and ice water, let's see if they can really hold their own against Waterdrop versions. Read on as we compare Waterdrop and iSpring filtration systems.
Similarities between Waterdrop and iSpring filtration systems
The manufacturers claim that both filters are capable of getting rid of 99% of contaminants. These >1000 contaminants include harmful compounds like chlorine and lead, as well as microorganisms like bacteria and viruses. Both cost significantly higher prices, but the value well justifies their price tags. You get safe and clean tap water quickly while saving considerably on bottled water purchases.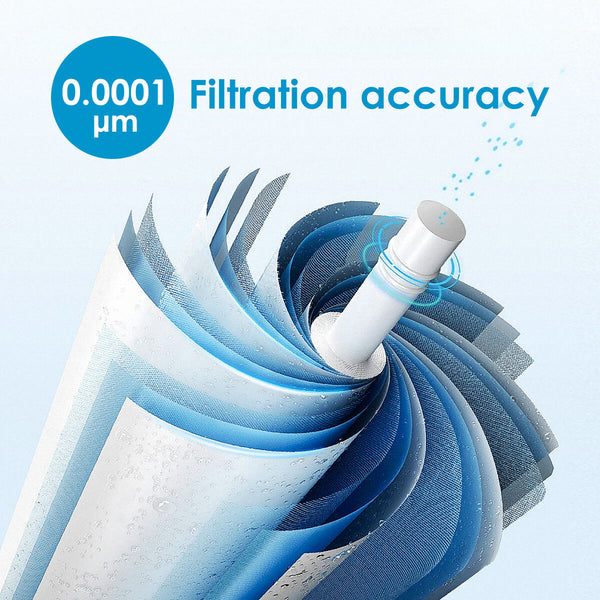 Differences between Waterdrop and iSpring filtration systems
In discussing the differences between these systems, we will be considering seven talking points: Water Filtration, Water Flow, Filter Life, Water Wastage and Tank, Smart Design, Installation, and Price. Let's get right to it!
1.  Differences in Water Filtration.
Stages of Filtration
There are three composite water filters in Waterdrop G3. This translates into seven filtration stages:
PP cotton
Carbon block of 0.8μm pore size
Post PP cotton
3-layer RO membranes of 0.0001μm pore size
Post-activated carbon block of 0.05μm pore size
There are five filters in iSpring RCC7. This translates to five different filtration stages:
PP sediment
GAC granular activated carbon
CTO carbon block pre-filters
RO membrane
Inline post carbon filter.
RO Membrane and Certifications
Waterdrop filters have the NSF 58 TDS reduction certifications, alongside an NSF 372 lead-free certification for the faucets. The G3 RO system has undergone over 400 chemical lab tests and passed all. Therefore, it is confirmed to be free of over 400+ chemical substances, including cadmium, lead, benzene, formaldehyde, bisphenol A, and others. The DOW membrane in Waterdrop G3 is an advanced RO membrane. The delicate matters in the membrane help to deliver overall improved filtration.
iSpring products undergo annual tests to remove 99% of the well and municipal water's harmful components. The manufacturing process of the water-contacting parts of the system – tubing, tanks, filters, and others – are in line with the NSF/ANSI standards, i.e., 58 for reverse osmosis.
2.  Differences in Water Flow.
GPD is the standard measuring unit of a water filtration system's flow rate. In the case of iSpring, the flow rate is 75 GPD. This means it can deliver 0.05 gallon of filtered water in a minute. This is considered as not fast enough in some quarters. So, to make things faster for filtration systems with <400 GPD flow rate, the use of water tanks was introduced.
The role of the water tank is to store filtered water until it is needed. As excellent as this idea seems, there are a few problems. Storing filtered water in the water tank puts it at the risk of exposure to over 600,000 contaminants that may grow in it. This means that the water coming out of the RO faucet is not entirely clean. Larger tanks also require larger under sink space – another aesthetic flaw.
Conversely, Waterdrop boasts a water flow rate of 400 GPD; it will provide 0.28 gallon of water in just a minute. This removes the need for a water tank or container. The filtration is instant, and you get more drinking water in the shortest possible time. The absence of tanks means zero risks of contaminant growth. Hence, what you have is 100% clean, filtered water. You also get a better aesthetic appearance, especially with the smaller sizes.
3.  Differences in Filter Life.
There are five filters in the iSpring filtration system, each with varying lifespans:
PP sediment (6-12 months)
GAC (6-12 months)
CTO (6-12 months)
RO (2-3 years)
Post Carbon (6-12 months)
Waterdrop, on the other hand, has just three composite filters, also with varying lifespans:
It is important to keep track of the lifespan of each filter and replace them when due.  This is the only way to ensure clean and refreshing water at all times. So, if you have a few filters in your system, you have less to worry about.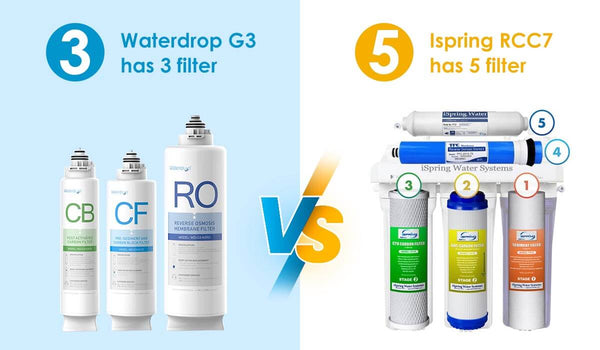 4.  Differences in Water Wastage.
Water wastage is measured in the drain ratio. In the case of iSpring Rcc7, the drain ratio is 1:3 – you need three cups of wastewater to get a cup of clean water. More wastewater is required for clean water.
Waterdrop G3 offers a drain ratio – 1:1. You get one cup of purified water from one cup of wastewater. This much better efficiency means you can save up to 300% water.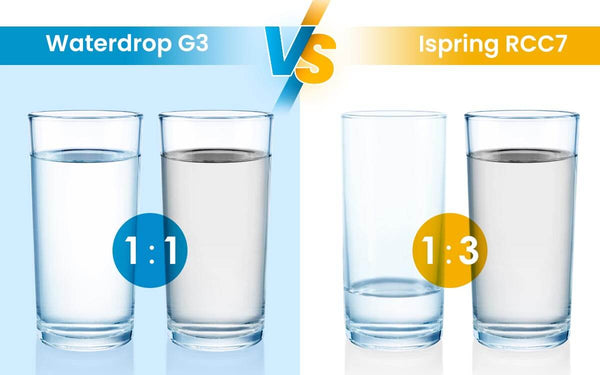 5.  Differences in Design.
The design of the iSpring RCC7 is not smart in any way. Conversely, Waterdrop G3 sports a smarter design faucet with features like filter replacement reminder and a TDS monitoring panel that offers a clear view of water quality. The flushing and stop functions are also automatic. It has won the Red-Dot Award Winner 2019 for the elegant appearance design.
6.  Differences in Installation.
You cannot replace a component, e.g., filter, in the iSpring RCC7 without turning the system off. Waterdrop allows you to replace filters with the system on, without using any tool. You can be done in as fast as 3 seconds.
7.  Differences in Price.
You will pay up to $199 for an iSpring RO system, and up to $100 for filter replacements in two years. This would be affordable if there were just one filter. However, the filters are many. Thus, the cost multiplies, especially when you consider that you need to replace the filters regularly.
You will pay up to $549 for a Waterdrop G3 system, and up to $200 for filter replacements in two years. Yes, this is a higher price point compared to the iSpring Rcc7. However, it is a worthy investment if you consider benefits like advanced RO membrane and selected filter material. The reality in today's tech-driven world is that innovation simply costs more.
Lastly, since you will be buying a reverse osmosis system just once in your lifetime, you must go for the best option suited for long-term use. Waterdrop fits the bill here, with its smart design, excellent filtration, and improved efficiency.
The More Affordable Waterdrop Reverse Osmosis System
If you are bothered about paying that high for Waterdrop G3, you can opt for Waterdrop G2 Under-Sink Reverse Osmosis Water Filtration. You mostly get the same smart design and excellent filtration but for a lower price. 
Here are some key features of Waterdrop G2:
2 filters and 5 layers, offering pure water all day.
300% water conservation, thanks to its 1:1 Wastewater to Pure Water ratio.
Tankless design that preserves aesthetic values and blocks secondary pollution.
Fast water flow rate (400 GPD), thanks to the internal pump and efficient filters. A cup of filtered water will take only 12 seconds.
Minimal leakage, thanks to the integration of the water and electrical circuits.
Less noise, thanks to the airtight housing.
Relative ease-of-installation and replacement of filters.
The twist-and-pull design of the filters means you can replace them in less than five seconds.
The entire installation can be done in under 30 minutes.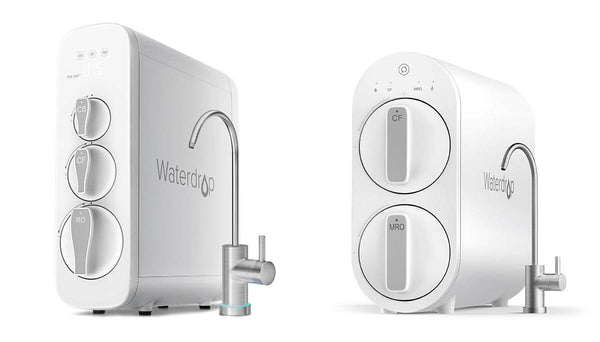 Final Thoughts
There is no doubt that these two water filtration systems will deliver clean, safe, pure, and tasty water for your domestic consumption. Now you can save more on bottled water and avoid the stress that comes with carrying one around. Think long term home investment, think Waterdrop, and iSpring water purifying systems.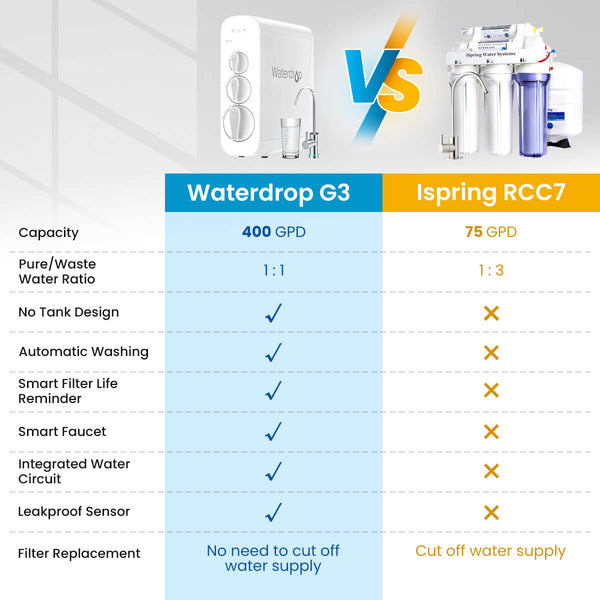 ** The water filter is not sourced by or sponsored by above brands. The manufacturer's names have been used for reference purposes only.

** iSpring is a registered trademark of iSpring Water Systems, LLC