Why You Need a Stainless Steel Ultrafiltration Water Filter
by
Dr. Jonathan Doyle
- Updated November 03, 2021
With the passing of every day, we witness big changes to our environment and the following impacts toward our living conditions. By taking our personal health seriously, we can make great strides in improving not only our wellbeing, but the climate as well. One way health conscious people begin improving their life is through the use of a water filtration system. If you do not own a water purifier, learn the importance of drinking purified water here:
The Benefits of Purified Water
A quick Amazon search will render endless results of water filter products, with the majority comprised of plastic materials. Considering the known issues surrounding the use of plastic, especially in terms of plastic water bottles, it comes as no surprise of surrounding doubt. In terms of water filters, what should you be on the lookout for, and how can you provide a healthy source of filtered water to your family, without plastic?
Are Plastic Water Filters Safe?
Typically, plastic water filter housing is generally regarded as safe. However, this is highly dependent upon the type of plastic used, such as BPA free, hard clear plastic, food-grade materials, and more. The FDA website even lists studies that were conducted to level the
exposure of BPA from a low-dose
.
Caution on Choosing Plastic Purifier
H3: Caution on Choosing Plastic Purifier When it comes to selecting your next water filter, it's important to note the differences between cheap and expensive units. More often than not, well-known manufacturers are more concerned with quality, and won't risk the use of unqualified plastic. They understand the serious health risks surrounding plastics, and often offer certifications as a guarantee to safety. Like Waterdrop, all plastic water purifiers are made of BPA-free materials.
However, when you drink water produced by a non-certified water filter, you run the risk of consuming
BPA and BHPF
, as well as other toxins known to carry side effects to overall health. Unfortunately, there is not enough research surrounding the topic of
microplastics
, however, we do know other toxins cause harm to reproductive health.
Additional Concerns
If you have spent any amount of time perusing the selection of plastic water filters listed on Amazon, you may have noticed numerous negative reviews. This is especially true in terms of longevity, simply because cheap plastic does not stand the test of time. Handles crack on pitchers, filter housing breaks, and general leaks occur rapidly. The fact of the matter is, plastic can be a real pain when it comes to water filtration. This is because it is prone to compression, and is easily cracked when dropped. Once a break at a main connection joint has occurred, chances are it will begin leaking. Typically, this type of damage is not fixable, and calls for a total replacement or pricey repair.
Consider Stainless Steel Water Filter Instead
Many ill advised consumers may not understand the benefits offered by stainless steel, which leads to hesitancy upon purchase. When, in fact, stainless steel water filters offer
a plethora of advantages
over plastic. Not only is it resistant to corrosion, and high temperatures, but it also doesn't crack when dropped compared to plastic. This high level of hardness poses the most significant advantage over plastic, especially in an environment where grinding and other abrasion take place.
By comparison, the
maintenance surrounding the operation
of a stainless steel water filtration unit is much lower than cheaper alternatives. Once you take these details into consideration, it's easy to see why paying a little more up front is definitely worth the investment. If you are looking for a filter that will operate well under a damaging environment, and provide overall longevity, you should consider purchasing one made with stainless steel, instead. Plus, this material is highly recyclable, leading to less waste. For example, once the filter cartridge has been spent, you can discard the entire filter, much unlike your traditional plastic water filter. Simply replace the cartridge, and keep the stainless steel housing for the next replacement.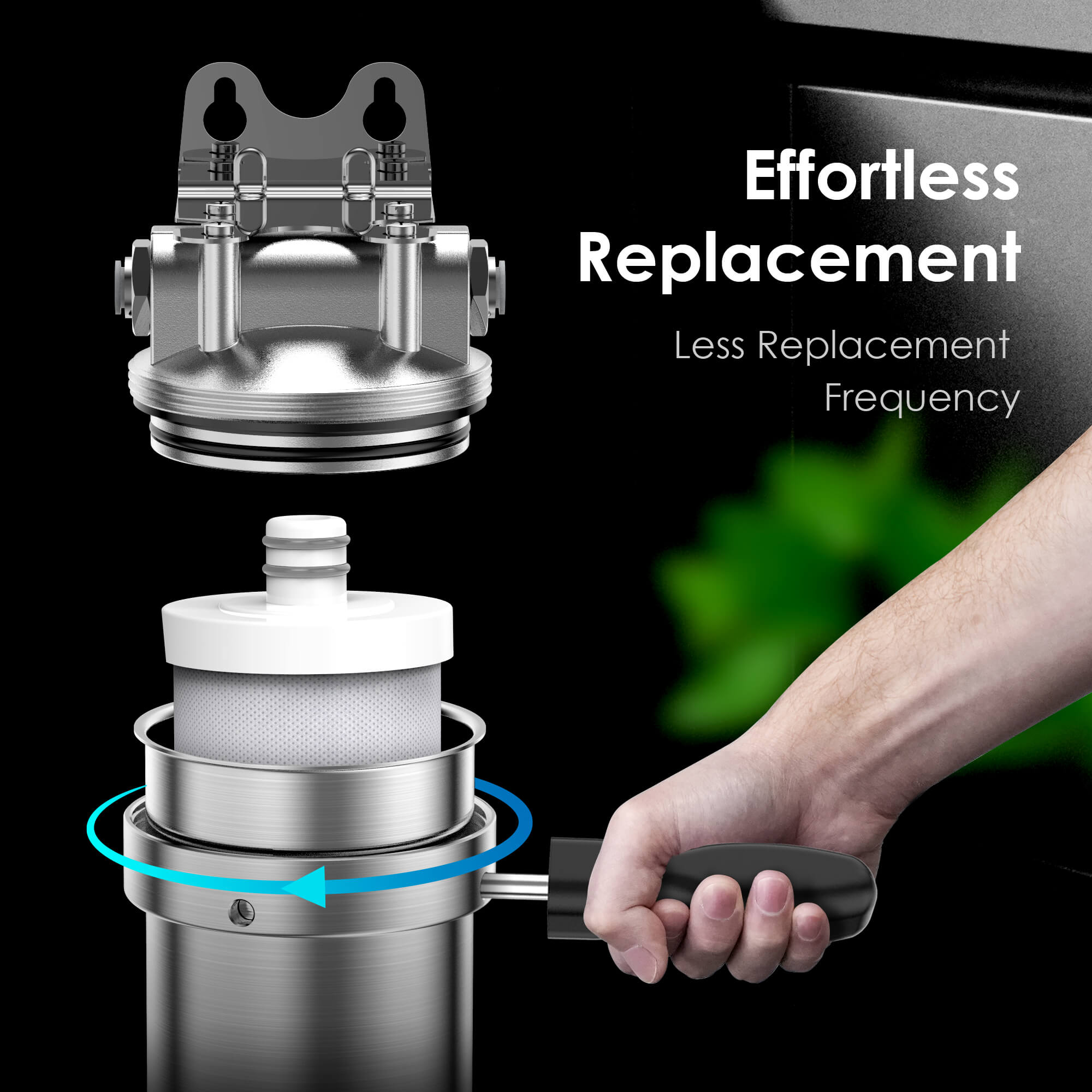 Stainless Steel Ultrafiltration Water Filter by Waterdrop
If purchasing a stainless steel water filter is at the top of your list, consider selecting the ultrafiltration unit from Waterdrop. Finally listed among their wide range of water filtration solutions, Waterdrop's stainless steel option utilizes a 304 stainless steel housing. In an under sink water filter style, this product is resistant to compression and corrosion, with lead free materials, in a recyclable housing. In fact, by utilizing lead free materials, the unit is more durable, and stronger to resist cracking among other damage. The thicker sealing ring also goes great lengths in effectively preventing future leaks.
Thorough Ultrafiltration
Ultrafiltration provides a whole slew of advantages over other types of water filtration, which we have delved into in times past. This premium level of water filtration provides 6 stages in which to purify tap water. An
activated carbon block
works alongside PP cotton, in order to reduce lead, chlorine, large particles, and rust commonly found in local water supplies. Furthermore, it reduces unpleasant odors and flavors, for water you will be proud to serve to friends and family. If you are still looking to take advantage of ultrafiltration, simply check out:
What Is Ultrafiltration Membrane And How Does It Work?
Contaminants Detected in
Fruitland Water Special Service District
30
Contaminants
EXCEED EWG HEALTH GUIDELINES
30 Total Contaminants in Your Water
Water Provider
Fruitland Water Special Service District
Population Affected
120,000
Water Source
Ground water
Exceeds Guidelines
Others Detected